Niagara River Guide Service provides top notch fishing charters for Niagara River, Lake Ontario and Lake Erie. Our clients have landed many trophy catches for Salmon, Steelhead, Walleye, Musky, Smallmouth Bass, Trout, Perch and other Sportfish.
We are the oldest and most respected charter fishing service in the Western New York region and is owned and operated by Captain John DeLorenzo of Niagara Falls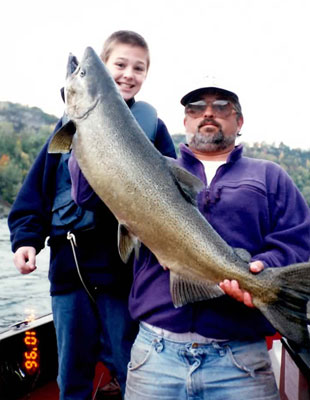 The Niagara River and the 20 mile stretch of Lake Ontario around the mouth of the Niagara is known as one of the top fishing hotspots in the Great Lakes for Salmon, Steelhead, Lake Trout, and Brown Trout. The Niagara River also features great Trophy Smallmouth Bass, Walleye, and Muskies.
Niagara Falls and the rapids below them, causes the river to have an extremely high oxygen content, which draws large amounts of bait fish, and in turn great numbers of all types of gamefish. There is truely no other fishery in North America with the quality and consistency of fishing for 12 months a year.
King fishing off the mouth of the river is second to none on Lake Ontario. In the spring lake wide LOC tournament, most of the top 20 kings are all caught within a couple of miles of the Niagara's mouth.
During the summer months catches of 50-100 smallmouth bass a day are common and walleye up to 15 LBS are caught with the average size of a Niagara Bar walleye being 7-10 LBS.
The size of the brown trout are truely eye-popping and there is no place in the world that lake trout are caught in these numbers then on the Niagara Bar.
The August King fishing for the last 2 years has also been outstanding.
Catching a winter Steelhead is a great way to fight a bout of cabin fever, and fighting a huge King salmon in the Devils hole is an experience you won't soon forget.
Niagara River Guides fishing charter Service operates out of historic Lewiston, New York, 4 miles north of Niagara Falls. Bring your camera not only to take pictures of the great catches but you'll be on one of the most scenic rivers in the USA.
During your trip we'll pass by several impressive forts from the revolutionary war era, see the famous Devils Hole, and go between the tailraces of two of the largest hydroelectric plants in the country.
The Niagara region also has plenty to offer such as tours of Old Fort Niagara built in 1750, Casino Niagara, Whirlpool Jet Boat (a great ride up into the lower river rapids), and of course the majestic Niagara Falls itself.